Celebrate Your Mother while Supporting another!
A portion of our Mother's Day Proceeds will go to Nurses for Newborns & THRIVE

Nothing is better than a unique gift created especially for Mom! Remember those candy bowls, magnets and other homemade gifts?
Life's got a little busier for you so let us help you out by creating a memorable gift to arrive before her special day. We can customize to make it even more special.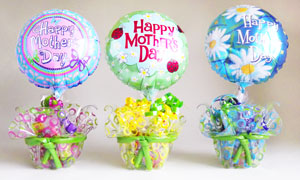 Candy Bouquets for Mom!
A perky gift for those on a budget, These bright polka dot lucite containers holds an assortment of
candies, like Bit O Honey's, Jolly Ranchers, Riesens & More topped off with a balloon
Starting at $15.99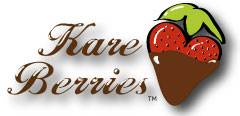 Festive Stripes Deluxe Dozen


This Striped box with Pink window top holds a dozen of an assortment of lucious Dark & Milk Chocolate covered Strawberries with colorful candy toppings, pecans, sparkly sugars, coconut. Please let us know if you'd like a special assortment.

$31.95

Festive Stripes Dipped

Just the berries and Chocolate please! We can do all milk chocolate, all dark chocolate or a mixture of both.

9 Dipped - $19.95

12 Dipped - $26.95




Brown Box Deluxe Dozen

This brown box with decorative ribbon holds a dozen of an assortment of lucious Dark & Milk Chocolate covered Strawberries with colorful candy toppings, pecans, sparkly sugars, coconut. Please let us know if you'd like a special assortment.

$31.95

Deluxe Dozen in Brown Box

Taste of St. Louis Butterfly

Send Mom an elegant Taste of St. Louis in this metal Butterfly embossed container (a variety of colors available). It has Triple Mix popcorn, Billy Goat Chips, Dad's Cookies, Mound City Mixed Nuts, Bissinger's Chocolates, Gooey Butter Cake Fitz's Rootbeer & a Chocolate Arch

$48.95

Perky Paisley for Mom!

This perky paisley box holds a great assortment of a Taste of St. Louis with Triple Mix Popcorn, Dad's Cookies, Mom's Originals chocolate caramel pretzel rod, Gooey Butter Cake, Mound City Mixed Nuts and a Chocolate Arch

$38.50
Lady Bug Mug

An adorable ample ceramic mug that says 'Mothers are a gift from above' with Earl Grey Tea, chocolate covered Oreos and an Iced Sugar Cookie. For an additional fee, we can add a Starbucks gift card.

$20.95

A Mother Is...

A memorable gift with sweet words for mom (click on the image for a closer look) With Raspberry Powdered Sugar Cookies, a bag of Happy Mother's Day Mama Bear Salt Water Taffy, Cappuccino, a ceramic coordination travel coffee mug and a decorative cookie.

$50.95

Add a Balloon to your design for an additional $2.50

Flower Power

Our flower power box has Bissinger's Chocolate covered Almonds, Deluxe Salt Water Taffy, Sea Salt Caramel Chocolate Bar, Triple Mix Popcorn, Chocolate covered Oreos and Flower Tarts.

Starting at $47.95
Butterfly Beauty

This keepsake Butterfly tin holds delicious lime shortbread cookies dusted with powdered sugar, a polka dot ceramic mug with Earl Grey tea, Deluxe Mixed Nuts, chocolate covered oreos topped off with a Mother's Day balloon.

$44.95

Watering Can Floral Arrangement

A whimsical metal watering can (we have bright polka dot cans too!) with an assortment of blooms that will brighten her day!

starting at $47.95
Mums for Mom

Our polka dot lucite container holds a pot of mums for mom with a Happy Mother's Day Balloon.

As shown ~ $20.95

Gerbera Wheelbarrel

Live Gerberas in this adorable wheelbarrel planter.

As Shown ~ $23.95
Grandma's Gift

A sweet way to remember Grandmas because they're mommies too! In this adorable container that holds a nice afternoon pick me up with Lemon Daisy Shortbread cookies, a ceramic Mug with 'Grandmas are mommies with lots of frosting' imprinted, Raspberry Tea, Belgian Hazelnut Chocolate and an assortment of Salt Water Taffy. .

$45.95

Love to Mom!

This adorable keepsake tin container holds a whimsical ceramic mug that says 'Mother's make the best friends', with Biscotti, a Plush Love to Mom bear, Chocolate Almonds, Cookies & Tea

As Shown Above~ $52.50

Potted Pleasures

This lucite polka dotted pot cover holds Bissinger's Chocolates, Gourmet Salt Water Taffy, Decadent Chocolate Covered Oreos, Tea or a Flavored Lemonade Drink

$47.50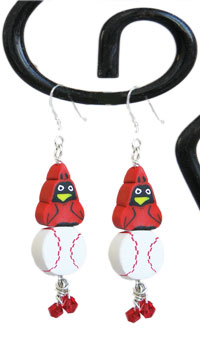 Cardinals Earrings
These whimsical Cardinals Earrings will
be perfect to wear when you Root Root Root
for the Cardinals! Click on the image to see more InJoyelry!
$18.95

Tulips 4 U!
This creative lucite stem vase holds a very lifelike tulip.
$10.95